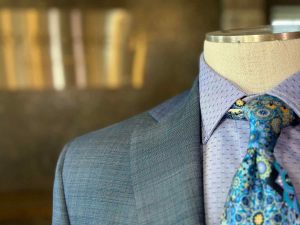 Gentlemen, when you look your best, you feel your best. There is nothing better than the feeling of wearing a tailor made suit – however, many men make these common mistakes when learning how to build a suit from scratch. Here's what to look out for the next time you're picking out men's dress suits to wear.
Size Matters.
When it comes to tailored suits,, wearing the wrong size can be the difference between style and sloppiness. Try sizing down from the size you would usually get as smaller suits are easier to tailor and are less likely to look boxy and messy.
A Tailor, Tailored to You.
Don't just google "tailor near me" and go to a cheap store that will not take the time and effort needed into finding your right fit. Investing time and money into finding a good tailor and suit store is paramount to making sure your suits fit you like a glove and look incredible on you. Your tailor can make or break your suit, so find a tailor that is professional, trustworthy and listens to your needs.
Match Your Men's Dress Suits
Making sure your suit looks cohesive goes beyond matching your top to your bottom our your shoes to your belt. Matching your suit means understanding how to pair different elements of your suit to enhance the overall look and make you stand out. If styling is a weakpoint for you, be sure to find a suit store with consultants you can trust with putting your outfit together with elegance and flare.
Take your Stitches Out.
Removing the sleeve and vent stitching of your suits as well as your front pocket stitches makes your overall suit look more seamless and tailor made rather than being straight out of the store. If you can see the stitching on your suit, it has got to go.
Expensive Doesn't Always Mean Good.
Getting an expensive suit at the most expensive tailor won't guarantee you the best looks. It is far more important to find suits that work for your body type and features and have them tailor made by good tailors that are highly recommendable and have great reviews.
Need a suit store that'll have you always looking your best? Gary Michaels Clothiers is a Top 5 American Tailored Clothier Retailer. Drop by to check out our collection and get fitted by professionals!